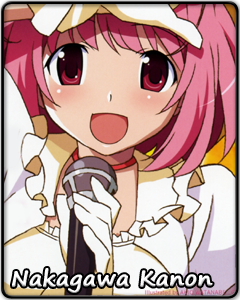 | | |
| --- | --- |
| Name: | Nakagawa Kanon 「中川かのん」 |
| Title Series: | Kami nomi zo Shiru Sekai |
| Voiced by: | Tōyama Nao |
Career ISML Performance
2012: 30th Place Nova Division. Record: (7-0-28)

Moe Tournament Résumé
Round 2 - Japan Saimoe 2011
Top 96 - Korea Best Moe 2011

There are things in this world that can be won through hard work.

A simple girl puts all of her heart into her songs, and there is not way she will remain unnoticed forever. Day by day, the number of her fans grows. She helps give life to new dreams, just as her own dream comes true. The staircase of stardom leads her to unknown heights.

But fame and attention seem like a hollow illusion when in the deep of a silent night. Fans come and go, readily moving onto another fad. The glory of an idol is like sand slipping through her fingers, losing its shine with every lost grain. Relentlessly climbing up the staircase leading her to nowhere, the girl left too many irreplaceable things behind.

There are things in this world which can only be received.

The concert hall before her can hold up to ten thousand people, and Nakagawa Kanon has to decide. Who is she singing for? What is she singing for? With the night sky above pierced with multicolored lights and the silence banished by thousands of voices chanting her name, Kanon has to decide if the dream she worked for so long is really her own dream.

There are things in this world that cannot be broken.

There are lights in this world that shine forever.


Past Notable Matches