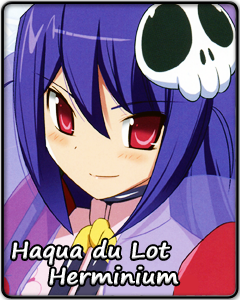 | | |
| --- | --- |
| Name: | Haqua du Lot Herminium 「ハクア・ド・ロット・ヘルミニウム」 |
| Title Series: | Kami nomi zo Shiru Sekai |
| Voiced by: | Hayami Saori |
Career ISML Performance
2012: 20th Place Nova Division. Record: (16-0-19)
2014: 20th Place Nova Division. Record: (13-0-22)

Moe Tournament Résumé
Group Finalist - Japan Saimoe 2011
Top 96 - Korea Best Moe 2011
Round of 96 - Animefans Saimoe Tournament 2012
Round 3 - Girls Bracket 2013
Round 3 - Great Awwnime Bracket 2014
Round 3 - Best Girl Contest 2014
Round 1 - Japan Saimoe 2014
Round of 144 - Animefans Saimoe Tournament 2014

Justly called a demon among demons, Haqua du lot Herminium serves as a shining example to follow for the young generation of the residents of hell. Her academic ability and proficiency in demonic arts are second to none. Her work ethic and attitude towards others are equally praiseworthy, earning her the love and respect of all her colleagues. She is the person to go to for advice when in trouble, the one demon that can be always counted on.

The trust other demons have in Haqua is indeed absolute. Which is exactly why every mistake she makes is so painful for her. Sent to the front lines in a time of crisis, Haqua experiences the first true failure in her life. It scares her. It scares her that what she had been training for so long, even teaching it to others, means nothing in practice. With her self-confidence shattered, Haqua's streak of mistakes never ends, and she sinks ever deeper into despair.

What Haqua does not realize is that she is not alone at the top of the world. Nobody expects her to fight on her own. To the contrary, all those that have been depending on her for so long would be glad to repay the favor. For Haqua, it is all a matter of accepting the outstretched hands offering her help. However, a proud demon like her might have already forgotten how to rely on others. Her cheeks certainly redden sweetly when she has to speak simple words of gratitude.


Past Notable Matches

ISML 2014 Regular Season: (20th Place)
Amethyst 4: 2498-2434 over Nyarlathotep (Haiyore! Nyaruko-san)
Ruby 3: 2082-1967 over Yūki Mikan (To LOVE-Ru)
Ruby 4: 2033-2192 to Momo Belia Deviluke (To LOVE-Ru)
Ruby 6: 2426-2269 over Natsume Rin (Little Busters!)
Emerald 4: 2148-2174 to Dekomori Sanae (Chūnibyō demo Koi ga Shitai!)
Emerald 5: 2004-2049 to Kirigaya Suguha (Sword Art Online)
Topaz 4: 2009-2034 to Shokuhō Misaki (Toaru Majutsu no Index)
Topaz 5: 1968-2030 to Takanashi Tōka (Chūnibyō demo Koi ga Shitai!)
Topaz 6: 2041-1926 over Shirakiin Ririchiyo (Inu × Boku SS)


Japan Saimoe 2011: (Group Finalist)
Group Finals: 283-464 to Miki Sayaka (Puella Magi Madoka ☆ Magica)

Animefans Saimoe Tournament 2012: (Round of 96)
Round of 96: (255)-(254 + 10)-(294) to Kuroi Mato (Black★Rock Shooter) & Menjō Hare (Guilty Crown)

Girls Bracket 2013: (Round 3)
Round 3: 711-1029 to Misaka Mikoto (Toaru Majutsu no Index)

Great Awwnime Bracket 2014: (Round 3)
Round 3: 299-381 to Oshino Shinobu (Bakemonogatari)

Best Girl Contest 2014: (Round 3)
Round 3: 2323-3533 to Asada "Sinon" Shino (Sword Art Online

Japan Saimoe 2014: (Round 1)
Round 1: 119-165-60 to Shokuhō Misaki (Toaru Majutsu no Index) & over Hatsuse Izuna (No Game No Life)

Animefans Saimoe Tournament 2014: (Round of 144)
Round of 144: (133)-(242 + 3)-(220 + 2) to Yuigahama Yui (OreGairu) & Petra Ral (Shingeki no Kyojin)